Associated General Contractors of Metro DC Spotlights Forrester Construction's Moroccan Embassy

FORRESTER CONSTRUCTION FEATURES MOROCCAN ARCHITECTURE IN NEW WASHINGTON, DC CHANCERY OF MOROCCO
The Associated General Contractors of Metro DC (AGC of DC) featured Forrester Construction's latest embassy project in the most recent edition of Washington Contractor Magazine.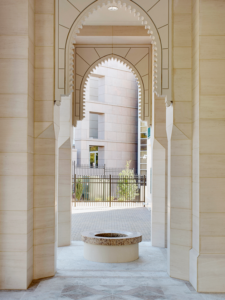 The article highlights the special considerations involved in building an embassy and Forrester's experience with similar construction projects. Project Manager David Eason, who has coma number of projects in Forrester's embassy portfolio, discusses the unique relationship and circumstances.

"There was great communication and a lot of trust throughout the process." He continues to explain "Moroccan architecture dates back thousands of years. It's very important to get it right […] so there were careful and close communication between all parties. Through that communication, we progressively learned more and more about their culture and [diplomatic] mission."
Construction of the Kingdom of Morocco's new Washington, DC embassy also involved overcoming a number of practical challenges. Built on the last open lot on International Drive, the building site is a particularly sloped parcel.
During the preconstruction phase, Forrester's team developed a project approach that involved, among other items:
Developing a comprehensive site logistics plan to manage deliveries and access

Creating benched levels to facilitate construction on the hill


Installing an aggregate pier deep foundation system
The value-engineering performed by Forrester's preconstruction and field operations experts resulted in significant cost savings for the owner.
Forrester is a long-time member of AGC of DC. Their mission, particularly educating the next generation of great builders, aligns well with Forrester's values and commitments.
During construction, Forrester invited AGC's Young Construction Forum members to visit the site twice to see the progress and see first-hand how the project team was implementing solutions.