Forrester Wins Two ABC National Eagle Awards
The Excellence in Construction Awards
The ABC Excellence in Construction (EIC) awards are the construction industry's leading national competition that honors general and specialty contractors for world-class, safe and innovative construction projects from across the nation.
"For 32 years, ABC has honored award-winning construction projects like Corpus Christi Catholic Church and Euro Motorcars Mercedes-Benz because the work by the team at Forrester Construction exemplifies the best of the best in construction," said 2022 National Chair of the ABC Board of Directors Stephanie Schmidt, President, Poole Anderson Construction, State College, Pennsylvania. "This exemplary construction project was built safely and on time. It is an honor to congratulate Forrester Construction for their hard work and showcase of construction excellence."
This national EIC award honors every member of the construction team, including the contractor, owner, architect, and engineer. The winning projects are judged on complexity, attractiveness, unique challenges overcome, completion time, workmanship, innovation, and safety.
A panel of industry experts served as the competition's judges. This year's judges included representatives from the Smithsonian Facilities Construction Division, Construction Management Association of America, Engineering News-Record, Design-Build Institute of America, University Research Institute, and various construction-related firms nationwide.
A full list of EIC winners is available on ABC's website.
Award-winning projects were celebrated on March 16, 2022, in San Antonio, Texas at the 32nd annual EIC Awards gala.
Our Award-winning Projects
Corpus Christi Catholic Church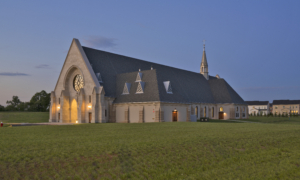 Forrester Construction's Corpus Christi Catholic Church project won an ABC National Excellence Eagle Award in the category of Institutional > $10 to $25 million.
This project involved the construction of a new 20,000 SF church and extensive development of an 18-acre site, including:
Clearing and grading

New access roads

Parking

New utilities

Stormwater management facilities

Sidewalks

Landscaping
The traditional Gothic style church features pointed-arch windows, a stucco exterior system with brick buttresses, and a decorative fleche above the crossing, reaching over 106 feet. Corpus Christi Catholic Church's West façade features Indiana limestone and decorative elements such as triangular pediments, pointed arches, rosettes, and a hand-finished crucifix, positioned below a rose window. The church is a traditional cruciform design and includes a choir loft over the main entrance, which houses the organ and service spaces.
After opening the 600 lb. custom wood doors, parishioners enter a warm narthex with coffered ceilings, checkered ceramic tile floors, and large custom hoop pendant lights. The baptismal font, also made of Indiana limestone, is plumbed to a dry well beneath the church for holy water to drain. The narthex is a space intended for parishioners to transition from the outer world to an inner, holy world. It is intentionally darker than the church's main space, allowing a moment of reflection before one enters the light.
In contrast to the narthex, the nave is light and spacious, seating approximately 1,200 people and stretching upward to a peak of 40 feet. Deep blue ceilings, representing the heavenly realm, are balanced with shades of warm gray on the walls and arches. This area features checker-board ceramic tile leading down the center and side aisles. Arched windows line each side of the nave, and custom pendant lights illuminate the path to the main sanctuary space. The North and South crossing of the church hold four confessional spaces with sliding millwork screens and drop-down sills for privacy.  The bold colors and thoughtful attention to detail throughout the finish trades' work, including drywall, millwork, paint, tile, and miscellaneous metals, contribute to the stunning interior.
All partners executed careful coordination, collaboration, and attention to detain in order to build this highly detailed, complex project. The result is a beautifully designed and thoughtfully executed church that will serve the community for many generations.
In addition to winning an ABC National Excellence in Construction Eagle Award, this project won a Washington Building Congress (WBC) Craftsmanship Award for Roofing (Ruff Roofers, Inc.) and Masonry (Lorton Stone) and was nominated for an American Subcontractors Association of Metro Washington (ASAMW) Great Team Award.
Owner – Catholic Archdiocese of Arlington
Architect – McCrery Architects
Euro Motorcars Mercedes Benz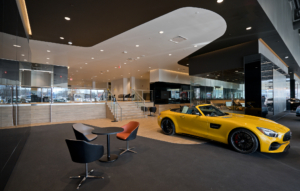 Forrester Construction's Euro Motorcars Mercedes Benz project also won an ABC National Excellence Eagle Award in the category of Commercial > $10 to $25 million.
Forrester and our partners performed a phased demolition and renovation of the showroom and service garage at the Euro Motorcars Mercedes Benz Dealership in Bethesda, MD.
The first phase involved the renovation of the one-story, 26,000 SF showroom. The new interior space is designed with an abstract layout featuring back painted glass wall panels and wood-look tile floors. The showroom design makes the building more aesthetically pleasing while providing thermal insulation and electrical efficiency with the allowance of natural light. It now includes a sound barrier between the showroom and a high-traffic road, located just outside the facility. With the sounds of traffic muffled, the newly renovated showroom's open layout offers employees and customers a more relaxed ambiance. This enables customers to focus on their needs without the distractions of the hustle and bustle coming from the neighboring city commotions.
The renovation and demolition of the 37,000 SF service garage were completed in two phases to allow the organization to remain operational during construction. As one side of the garage was under construction, multiple departments were vacated and moved to the other side of the structure to continue operations while awaiting completion. Once that phase was complete, it was then re-occupied by dealership staff allowing renovations to occur on the other, now vacant, building side. New mechanical system replacements were added along with updated finishes including full tile floor replacement and wall re-paint. The renovated garage was designed to allow the service technicians to have a more enjoyable, comfortable, and safe place to work.
In addition to the showroom and garage, Forrester Construction also:
Installed a green roof and supplementary landscaping

Performed partial site improvements

Made improvements to the parking lot.
Together these upgrades create an overall more serene and enjoyable experience for all.
In addition to winning an ABC National Excellence in Construction Eagle Award, this project has also won an Associated General Contractors of DC (AGC of DC) Washington Contractor Award.
Owner – Euro Motorcars
Architect – Penney Design Group, LLC
Other Award-winning Projects
Forrester Construction is proud that these projects were selected among so many unique and challenging projects across the United States. In addition to these projects, Forrester has also won past National Excellence in Construction Awards for the following projects:
More News and Blogs by Forrester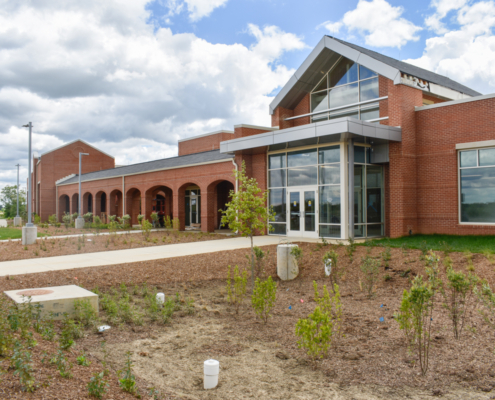 https://www.forresterconstruction.com/wp-content/uploads/2023/09/South.County.Police.and_.Animal.Shelter.Forrester-construction.jpg
683
1024
Rachael Thomas
https://www.forresterconstruction.com/wp-content/uploads/2017/04/forrester-construction-logo-md-340x156.png
Rachael Thomas
2023-09-11 15:41:33
2023-09-11 15:41:33
Lorton Police Station and Animal Shelter to Open This Fall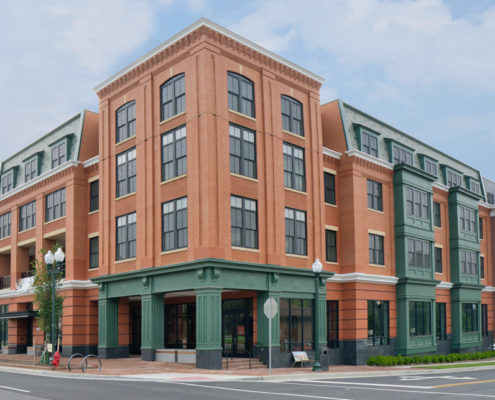 https://www.forresterconstruction.com/wp-content/uploads/2023/08/Sunrise-of-Vienna-Final-Ken-Wyner.-Forrester-construction-5.jpg
549
1024
Rachael Thomas
https://www.forresterconstruction.com/wp-content/uploads/2017/04/forrester-construction-logo-md-340x156.png
Rachael Thomas
2023-08-24 10:27:23
2023-08-24 10:27:23
Summer 2023 Forrester Construction Update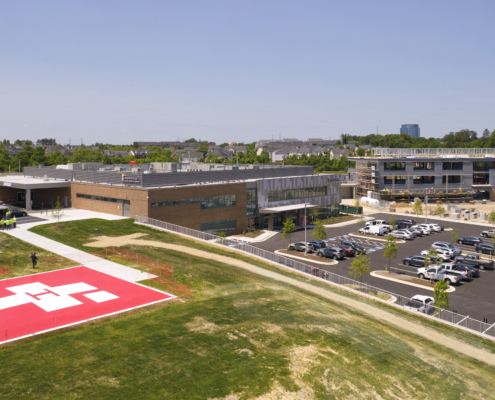 Ken Wyner Photography
https://www.forresterconstruction.com/wp-content/uploads/2023/08/UM-Laurel-Medical-Center-Drone-Photo-scaled.jpg
534
1024
Rachael Thomas
https://www.forresterconstruction.com/wp-content/uploads/2017/04/forrester-construction-logo-md-340x156.png
Rachael Thomas
2023-08-09 13:39:05
2023-08-09 13:39:05
Forrester Construction Completes UM Laurel Medical Center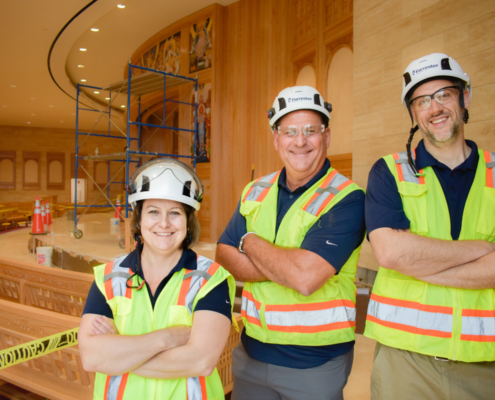 https://www.forresterconstruction.com/wp-content/uploads/2023/07/Forrester-Construction-Senior-Leaders-Kristin-Prudhomme-John-Shumar-and-Mark-Rolfs.jpg
683
1024
Rachael Thomas
https://www.forresterconstruction.com/wp-content/uploads/2017/04/forrester-construction-logo-md-340x156.png
Rachael Thomas
2023-07-26 12:25:18
2023-07-26 12:27:48
Forrester Construction Announces Kristin Prudhomme as President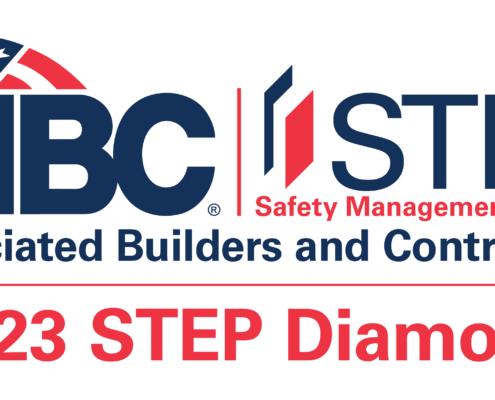 https://www.forresterconstruction.com/wp-content/uploads/2023/07/STEP-2023_Diamond.png
496
1024
Rachael Thomas
https://www.forresterconstruction.com/wp-content/uploads/2017/04/forrester-construction-logo-md-340x156.png
Rachael Thomas
2023-07-18 09:19:47
2023-08-09 13:10:00
forrester construction achieves abc national step diamond
https://www.forresterconstruction.com/wp-content/uploads/2022/04/pixie_1650639508651.png
386
1023
Rachael Thomas
https://www.forresterconstruction.com/wp-content/uploads/2017/04/forrester-construction-logo-md-340x156.png
Rachael Thomas
2023-07-07 13:10:45
2023-07-07 13:10:45
Tucker Road Ice Rink Featured in Metal Construction News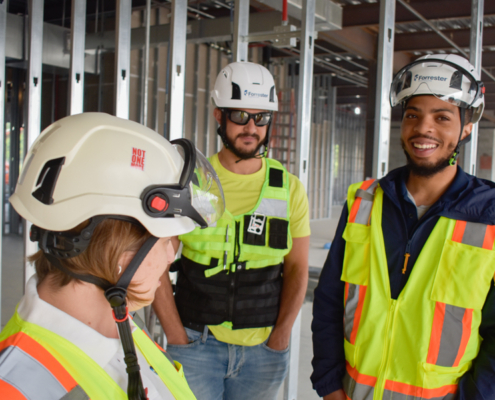 https://www.forresterconstruction.com/wp-content/uploads/2023/06/Catalyst-MOB-Forrester-Construction-Team-Members-with-President-Kristin-Prudhomme.jpg
600
900
Rachael Thomas
https://www.forresterconstruction.com/wp-content/uploads/2017/04/forrester-construction-logo-md-340x156.png
Rachael Thomas
2023-06-26 12:30:22
2023-06-26 14:55:43
The 2023 Forrester Summer Internship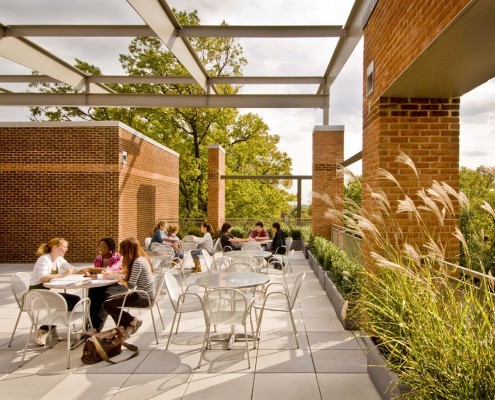 https://www.forresterconstruction.com/wp-content/uploads/2015/05/private-schools-edmund-burke02.jpg
768
1024
Rachael Thomas
https://www.forresterconstruction.com/wp-content/uploads/2017/04/forrester-construction-logo-md-340x156.png
Rachael Thomas
2023-04-26 08:40:54
2023-04-26 08:40:54
Spring 2023 Forrester Construction Update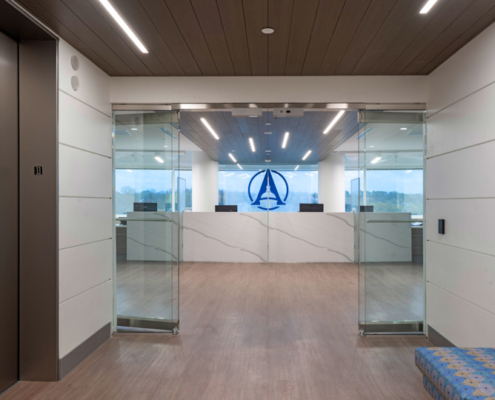 https://www.forresterconstruction.com/wp-content/uploads/2023/04/Anderson-Clinic-Shirlington-Lobby-Area-Forrester-Construction.jpg
540
800
Rachael Thomas
https://www.forresterconstruction.com/wp-content/uploads/2017/04/forrester-construction-logo-md-340x156.png
Rachael Thomas
2023-04-13 08:06:58
2023-04-26 15:05:08
Anderson Orthopedic Clinic Opens State-of-the-Art Surgery Center